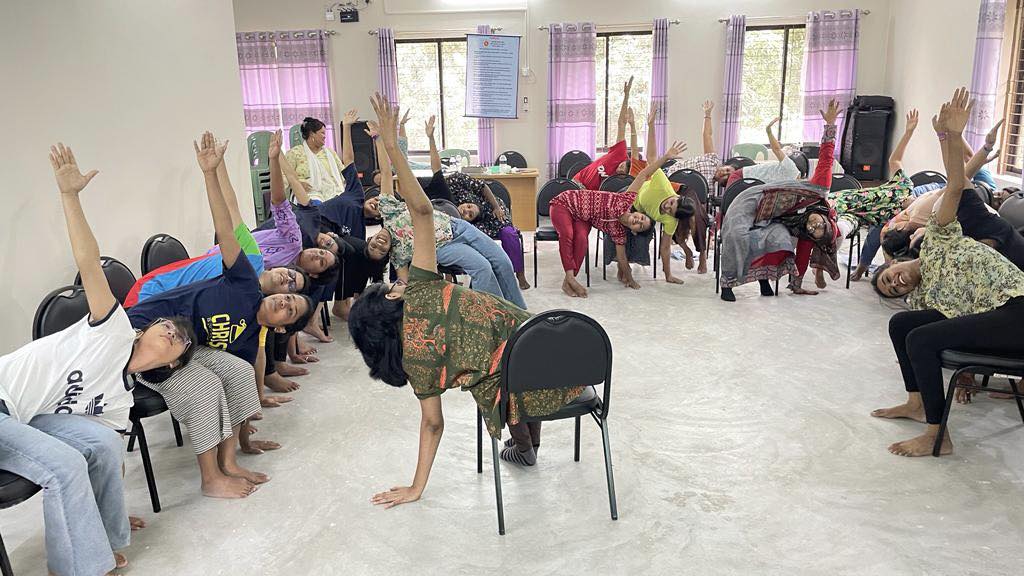 Like previous years, Harmony Trust, in collaboration with various civil society entities, celebrated the International Day of Yoga (IDY) 2023 through a series of events aimed at engaging a diverse audience. From 11th to 22nd June, we partnered with organizations such as the Young Women's Christian Association (YWCA), Friends in Village Development Bangladesh (FIVDB), Bangladesh Institute of Theatre Arts (BITA), Action for Social Development (ASD), Safety and Rights Society (SRS), and Community Participation and Development (CPD) to organize programs in Dhaka, Chattogram, and Sylhet division.
The focus of this year's programs was two-fold. The first aim, "Yoga for All," targets to extend the outreach of yoga to vulnerable and impoverished communities, particularly adolescents and youths nationwide. The second aim, "Yoga for Development," sought to integrate yoga into developmental activities, unlocking its potential in promoting social cohesion, preventing and controlling Non-Communicable Diseases (NCDs), fostering youth development, supporting the growth of children and adolescents, enhancing mental health and psychosocial well-being, and providing care for the elderly.
We held a Yoga Workshop in Sylhet on June 11th, with FIVDB's Senior Management. It was an hour focused on inner peace and balance, emphasizing the unity of mind and body. We're thankful to all who joined, embracing yoga's essence and promoting unity and well-being.
We held targeted Yoga workshops in Cox's Bazar for disadvantaged adolescents affected by the Rohingya crisis. These workshops took place on June 14th and 15th at the Children and Adolescent Centres in Samitipara and Memberghata, in collaboration with Bangladesh Institute of Theatre Arts (BITA) under one of their projects supported by Save the Children. In the events, the participating adolescents experienced the benefits of mindfulness and found solace through Yoga.
On 17th June, we organized a Yoga Workshop in Savar, Dhaka with the Young Women's Christian Association (YWCA). Youth leaders from 13 YWCA branches attended the workshop, exploring yoga's physical, mental, and social dimensions. The event was a transformative platform for the participants to explore their inept positive energy and power.
On June 21st, a group of homeless adolescent girls displayed their impressive yoga skills to a larger audience for the first time. This event was made possible by Harmony Trust's grooming and certificate program, which aims to improve the health and well-being of these vulnerable girls. We are grateful to Action for Social Development (ASD) for assisting in selecting the girls for the certificate course and giving these girls an opportunity to showcase their expertise as future health workers and caregivers.
Adolescents from marginalized backgrounds in Dhaka outskirts experienced Yoga's transformative power at an event organized by Harmony Trust and Safety and Rights Society (SRS) on 21st June afternoon. The session included Yoga demonstration and brainstorming on integrating Yoga into mainstream development projects.
Another yoga workshop for marginalized adolescents and youths in the slums of Dhaka was organized in collaboration with Community Participation and Development (CPD) on 22nd June. The event aimed to address their physical and mental health concerns. It was a transformative experience to the participants from the slums of Shyamoli and Adabor.
We are delighted to have received media coverage for our events, with articles featured in The Dhaka Post, The Daily Bhorer Akash, The Daily Janakantha, The Daily Naya Diganta, The Bijoy Bangla, The Daily Samakal, DD News, and All India Radio News. These articles provide further insight into the impact of our initiatives and the importance of yoga in promoting well-being and harmony.
Media Coverage Links:
1. The Dhaka Post, 19 June 2023 (https://www.dhakapost.com/national/202741)
2. The Daily Bhorer Akash, 19 June 2023 (https://www.dailyvorerakash.com/health/2023/06/19/328576)
3. The Daily Janakantha, 21 June 2023 (https://www.dailyjanakantha.com/national/news/690812)
4. The Daily Naya Diganta, 20 June 2023 (https://www.dailynayadiganta.com/…/%E0%A6%86%E0%A6%A8…)
5. The Bijoy Bangla, 21 June 2023 (https://bijoybangla.news/…/%e0%a6%86%e0%a6%9c-%e0%a6…/ )
6. The Daily Samakal, 22 June 2023 (https://samakal.com/capital/article/2306179699)
7. DD News, 18 June 2023 (https://ddnews.gov.in/…/bangladesh-yoga-programme-held…)
8. All India Radio News, 18 June 2023 (https://newsonair.gov.in/Main-News-Details.aspx?id=462741)
9. The Daily Samakal, 25 June 2023 (https://epaper.samakal.com/nogor-edition/2023-06-25/7)