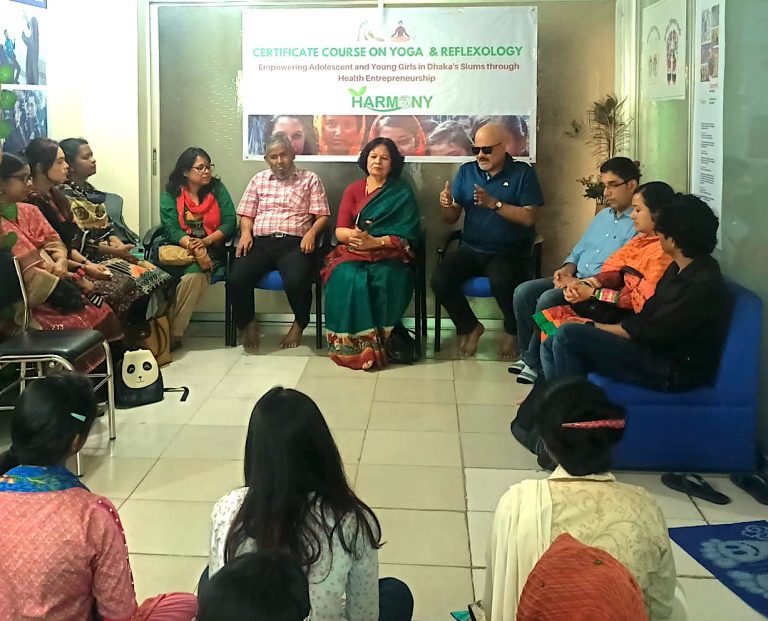 Harmony Trust launched a new development initiative aimed at developing disadvantaged adolescents and young girls as health entrepreneurs. During the initiative's launching event, speakers highlighted the significance of this initiative and its potential to empower individuals with natural healing techniques for self-healthcare. The program's focus on non-conventional therapies such as Yoga and Reflexology is a timely response to the growing need for education and training in these sectors. The speakers expressed their optimism about the program's ability to make a significant impact on the lives of participants, their families, and the wider community of slum dwellers.
The "Empowering Adolescent and Young Girls in Dhaka's Slums through Health Entrepreneurship" program was launched on March 12th, 2023. The event was held at the Harmony premise and was chaired by the Advisor of Harmony, Dr. Halida Hanum Akhter. The Secretary of the Trust and CEO of Harmony, Amitabha Bhattacharjee, placed the welcoming remarks at the beginning of the program.
The event was attended by a number of guest speakers including Mr. M A Karim, the Executive Director, Hamidur Rahman, Program Director, and Farhana Sultana, DCHR Project Manager, who represented Action for Social Development (ASD). Tapon Kumar, Project Coordinator, represented Safety and Rights Society (SRS) at the event. Additionally, Fathama Nargis, Executive Officer of the Business Promotion Council of the Ministry of Commerce & Industries, and writer, researcher, and activist Ankhee Siddika provided speeches at the event.
The purpose of the "Empowering Adolescent and Young Girls in Dhaka's Slums through Health Entrepreneurship" program is to provide training in Yoga, Reflexology Therapy, Healthy Lifestyle, and Elderly Care to adolescent and young girls from slum communities. This certificate course is backed by enterprise development supports and promotional activities. Harmony has established strategic partnerships with three development organizations, ASD, SRS, and Community Participation and Development (CPD) to select the most suitable candidates and for community mobilization activities to promote the participants upon course completion.
The trained girls are expected to offer their services to the slum dwellers at a lower cost to improve their health and well-being. They will also be able to serve elderly persons as caregivers. In addition, Harmony aims to provide these young girls with job placement support, ensuring that they are equipped with the necessary skills to lead successful careers in the healthcare industry.