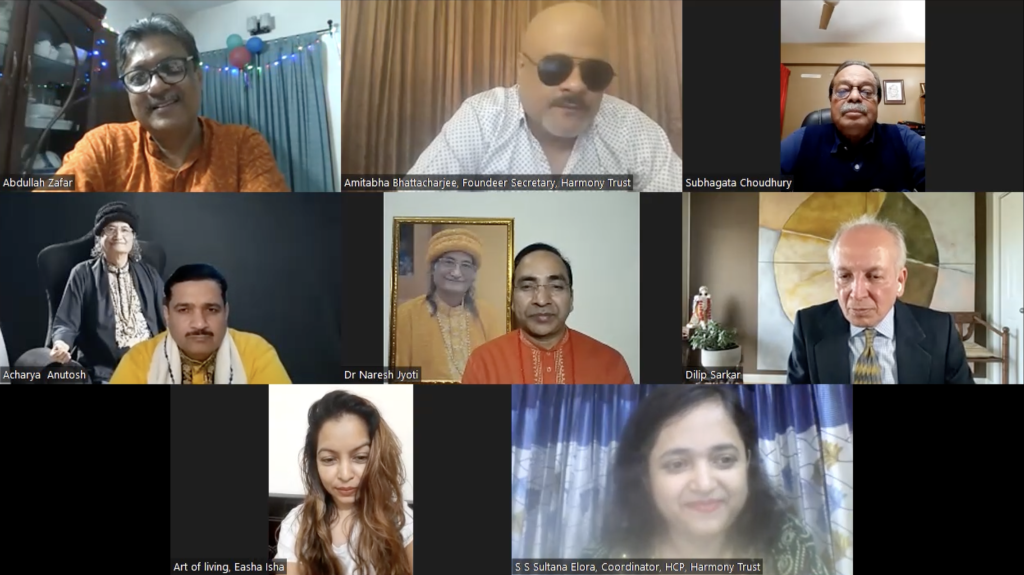 Harmony Trust recently celebrated the second anniversary of its specialized E-library on Yoga and Naturopathy. Launched on January 27th, 2021, the E-library provides professionals with access to carefully selected and reliable books, journals, and articles on Yoga and branches of Naturopathy, Reflexology, Acupressure, Ayurveda, and Nutrition from around the world.
On February 10th, 2023, a webinar was held to commemorate the anniversary. Eminent representatives from 11 national and international institutes, including the World Health Organization, Public Health Association of Bangladesh, The Art of Living Foundation, Indira Gandhi Cultural Center, and the Indian Institute of Yoga and Management, participated in the event, making it a great success.
The speakers at the webinar highlighted the significance of a holistic wellness and advocated for an integrated approach that combines conventional and traditional/complementary medicine. They emphasized the importance of standardization and evidence-based research in the fields of Naturopathy and Yoga, pledging to collaborate with Harmony Trust in promoting the E-library for the benefit of people worldwide. The speakers praised Harmony Trust for its proactive approach and futuristic vision, emphasizing the need to promote Yoga and Naturopathy globally and counter fraud & misinterpretation.
The webinar was attended by a range of distinguished speakers, including renowned medical scientist, author, and former principal of Chattogram Medical College, Prof. Dr. Subhagata Choudhury; Dr. Dilip Sarkar, Chairman, Center for Integrative Medicine and Yoga, Taksha Institute, Virginia, USA; Mrinmoy Chakraborty, director of Indira Gandhi Cultural Center, Dhaka; Dr. Abu Jamil Faisel, President (elect) Public Health Association of Bangladesh; Sajeev Menon, Senior International Representative & Faculty, The Art of Living Foundation Bangladesh; Acharya Colonel Anutosh Sharma, International coordinator, Oshodhara and Indian Institute of Yoga and Management; Dr. Naresh Jyoti, Director of Indian Institute of Yoga and Management; Abhijit Ghosh, Director of VYASA Kolkata; Yogachary-Vaidy Raghavendra Sharma, Yoga Expert, Yoga Wellness Centre Govt. Ayush Hospital Iglas, Aligarh, India; Dr. Jakir Hossain Bhuiyan, Technical Advisory member – Healthy Ageing, WHO; Rajesh Jha, special correspondent for Doordarshan and All India Radio in Bangladesh; Rashed Rabbi, President of Bangladesh Health Reporters Forum; and President of Bangladesh Medical Students' Society, Dr. Myesha Maliha Binte Mamun.
The webinar was a significant milestone for Harmony Trust's E-library, and the speakers' insights were both informative and inspiring. The need for standardization, evidence-based research, and collaboration in promoting Yoga and Naturopathy globally was emphasized, highlighting the importance of Harmony Trust's E-library in facilitating access to reliable information. The anniversary celebration serves as a testament to Harmony Trust's dedication and commitment to promoting integrative medicine and improving global health.